With the media and property promoters usually flattering the Central Business District's glitzy super-luxury condominiums, Bangkok's condo projects usually steal the spotlight. However, it is Bangkok's open secret that in many cases the super-rich actually prefer to retreat to private and expensive housing residences away from the urban city center. Bangkok's affluent people choose to live in exclusive housing enclaves located in the suburbs. These luxury housing developments are offered at eye watering price tags that often eclipse even the most expensive luxury condos located in Central Bangkok.
These houses offer indulgent luxury, combined with a prestigious sense of privacy, comfort, and security 24/7. So, if you're ready, read on to find out about what are the most luxurious housing projects available in Bangkok!
Bangkok's most luxurious housing estates
1. Santiburi The Residences
Starting Price: THB 260 Million
Santiburi The Residences is developed by Singha Estate and is located on Praditmanutham Road. This exclusive housing estate comprises of a total of 25 expansive 2-story homes, each offering approximately 1,366 sq.m. of usable area as well as a perfect blend of luxury and modernity, to which the developer achieves this by meticulously using only the finest of materials. All these individual elements contribute to a spectacular living experience. Simply put, the project offers a peaceful, private, and pleasant living environment to its affluent residents.
2. Atelier Residence
Starting Price: THB 138 Million
Atelier Residence is developed by Aland Development and it is located on Pracha Uthit Road, offering only 8 exclusive 3-story houses with approximately 1,150 sq.m. of usable area. Atelier Residence offers potential homeowners a stunning contemporary design concept. The design of the houses maximizes natural light and ensures residents can enjoy a cool natural breeze when indoors, and the interiors of the project are inspired by far east touches.
3. Issara Residence Rama 9
Starting Price: THB 120 Million
Issara Residence Rama 9 is a luxury housing development by Charn Issara Development, it is situated on Rama 9 Road 13. The project features 20 luxury homes for 20 families, each home offers 3 stories and up to 865 sq.m. of living space. Issara Residence Rama 9 promises a calming and peaceful escape from the hustle and bustle of urban city life. The project will offer ultimate comfort to its residents that will be able to enjoy the compound's exclusive selection of private luxury amenities.
4. Mavista Prestige Village
Starting Price: THB 100 Million
Mavista Prestige Village is a project by established Major Development, it is located on Krungthep Kreetha Road. There is a total of 14 luxury residences, and each unit features 3 stories as well as a total of 914 sq.m. Mavista Prestige Village features stunning art deco designs that are refined and luxurious, and the exclusive homes ensure residents can enjoy a private and superior level of living.
5. Crystal Solana
Starting Price: THB 75 Million
Crystal Solana was developed by KE Land and it is located on Praditmanutham Road. The Bespoke-luxury housing complex, comprises 47 beautiful residences, each featuring 3-storeys measuring from 490 to 1,010 square meters, and land plots measuring from 123 to 800 square meters. Crystal Solana is a "Six-Stars" living experience, the developer achieved this by offering a prestigious location, a timeless and classy architecture and resort style amenities. The super-luxury housing complex will offer a pleasant and ultra-private community environment to its wealthy residents.
Source: The Nation
6. Aman Nai Lert Bangkok
Starting Price: 450,000 THB/sqm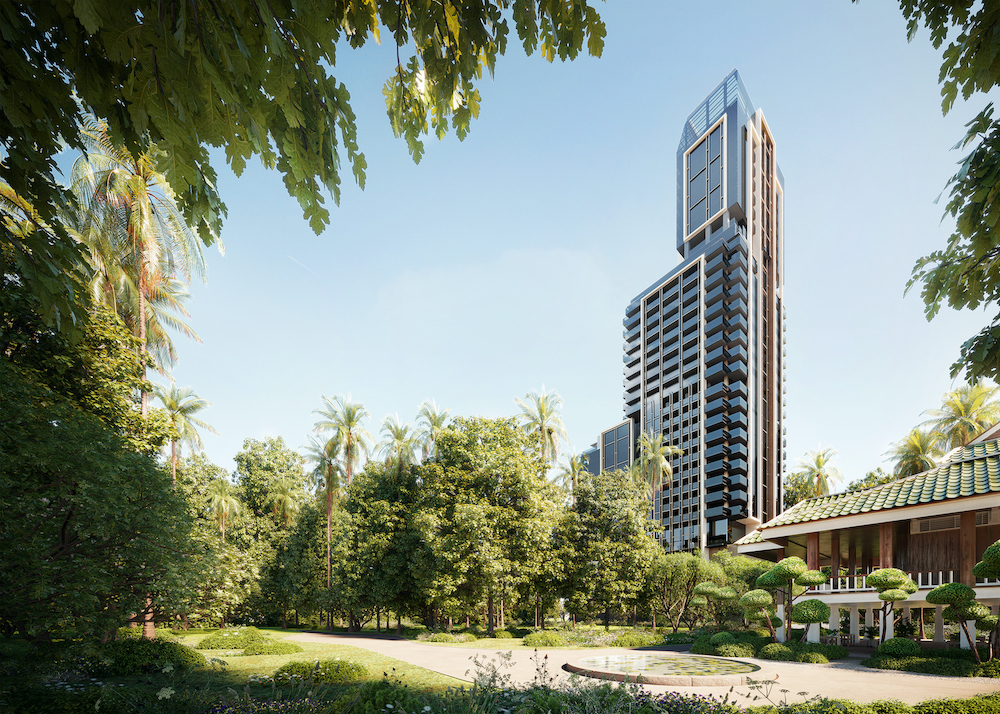 Founded by Lert Sreshthaputra (Nai Lert) since 1894, Aman Nai Lert is located Lumphini. This housing complex consists of over 18 floors, with considerably abundant space of up to 127 square meters for one-bedroom apartments and even bigger with 2200 square meters for four-bedroom penthouses. Majority of the units will feature balconies and 3.2m ceilings, all of which are guaranteed to offer the the very best views of the city for residents.
7. The Sukhothai Residences
Starting Price: THB 26,300,000
Located on South Sathorn Road, The Sukhothai Residences is a 41-story condo ranging from 1,2,3, and 4-bedroom units available for both sale and rent. The Sukhothai Residences is 1.8km from the BTS Chong Nonsi station and 800m from MRT Lumphini as well as being located 1.6km from the expressway access Chalerm Maha Nakorn.
Conclusion
We really hope you found our article on the best and most luxurious housing projects in Bangkok informative. Whether you want a 40+ story building condo or something simpler, you will be guaranteed a feeling of home you have all been wanting, as well as maybe travel convenience to your favorite shopping malls and more via BTS stations nearby. In the meantime, let us know what you think in the comments below!
Interested in these housing projects or any other properties?
Fresh Property is a real estate agency offering client sales, rental and property management services.
If you are a property seeker, you can browse our extensive collection of new development, resale properties or rental homes. Alternatively, feel free to contact us on [email protected]